FFI SOUTHWEST REGIONAL CONFERENCE
HOUSTON, TEXAS
MARCH 27-29, 2015

________________________________________________________________________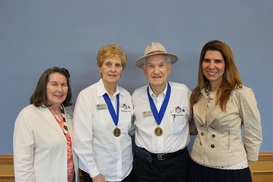 Charles Bennett received the Wayne Smith Award for outstanding service to Friendship Force International and to Friendship Force Baton Rouge. The Award was presented by President Keith Corkern, FFBR at the beginning of the Southwest Regional Conference. Cinda Clark (FFI Board Member), Frances Bennett, Charles Bennett, and Ana Smulski (FFI Staff) are in the photo.
---
________________________________________________________________________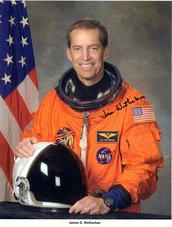 The major highlight of the conference for those on the cruise was the chance to meet Captain Jim Wetherbee and listen to his experiences as an astronaut in America's NASA space program. In fact, those on the Saturday night cruise also had a chance to meet his wife, daughter, and future son-in-law. Captain Wetherbee gave a presentation utilizing over 6 notebook computers held by his family members and others as he gave a very personal and detailed talk on his experiences and life as an astronaut. You can google jim wetherbee and pickup more on his life and accomplishments. He is a veteran of six space flights and was the first American to command five space missions. Passing through numerous careers which included setting up his own company, working for BP Global, engagements as a professional speaker, and now as a drummer in a band, Captain Wetherbee still enjoys everything that life has to offer.


---
_______________________________________________________________________
FFI has partnered with the Homestay organization. Organized just two years ago and headquartered in Dublin
Homestay.com
already has 30,000 members. Click on
Homestay.com
to learn more about the organization's vision and goals.
Please read the accompanying notes on the conference prepared by Mary Williams from the Dallas, Texas Friendship Force Club.
The photos and notes are used here with her permission.
4/12/2015