Open World Serbian Delegates Discuss Domestic Violence
October 21 through 28, 2017
Serbian Delegation Visits Baton Rouge for Domestic Violence Program

The Open World Leadership Center ("OW") administers the first and only international exchange agency controlled by Congress. Created in 1999, the agency offers bipartisan support in creating cultural exchanges for Eurasian leaders to witness democracy building in action. OW asked the Baton Rouge Friendship Force Club ("BRFF") if it would home host an OW delegation focusing on "the rule of law." My wife, Karen, as president of BRFF, said "sure," not knowing the extent of the undertaking. As the only practicing attorney in BRFF, I was asked to put the professional program together, and, of course, I said, "sure, honey."
The home hosting aspect was relatively easy as BRFF routinely hosts other Friendship Force clubs, averaging one international and one domestic exchange each year with normally about twenty guests per exchange. Our club stepped up and was ready to welcome whomever OW sent our way.
The delegation was scheduled to arrive in late October for a week stay with five days of professional programs. We learned a month before their arrival that the delegates would consist of two Serbian judges, Hon. Ljudmila Miljković and Hon. Sanja Perić; two Serbian prosecutors, Gorjana Čaluković and Mladen Vujin, and the head of Serbia's department of prevention and suppression of domestic violence in the criminal police directorate, Stefan Milijanović . They would be accompanied by two Serbian facilitators and an interpreter.
The professional programs we were asked to provide were to focus on domestic violence law. The Serbian government has identified domestic violence as one of its top concerns and has committed itself to resolving the issue. On the legislative front, the government passed a new law on the prevention of domestic violence that entered into force on June 1, 2017. The Law introduces emergency protection measures allowing police to evict the perpetrator from the family and prohibit contact with the victim for a period of 48 hours (which can be prolonged by a court for up to 30 days), risk assessment, keeping records of cases of violence and mandatory coordination and cooperation among competent bodies. The latter has been identified as the biggest challenge to the implementation of the law.
As a bankruptcy law specialist, I was out of my element and had to "phone a friend" for help. I started with Ann Gregorie, Executive Director of the Baton Rouge Bar Association. She led me to create an ad hoc committee of professionals, consisting of Melanie S. Fields, Domestic Violence Prosecutor, Office of District Attorney Hillar Moore; Thomas C. Galligan, Jr., Dean and Professor of Law, LSU Paul M. Hebert Law Center; Prof. Michelle Ward Ghetti, LOCHE Endowed Professor of Law, Southern University School of Law; and Magistrate Judge Erin Wilder-Doomes, U.S. District Court, Middle District of Louisiana. Each of these individuals spent many hours setting up an outstanding array of presentations by their colleagues for the benefit of the Serbian delegation. Their help is greatly appreciated!
Before their journey to Baton Rouge, the delegation had spent two days in Washington, D.C. with Open World personnel for orientation into the U.S. legal system. When the delegates arrived in Baton Rouge, their home hosts hurried them to the Capital Park Museum for a crash course in Louisiana history and culture. Alas, we underestimated how tired our guests would be after their flights from Serbia to D.C. to Baton Rouge, and, I'm afraid, not too much sunk in.
The following day was Sunday, and we had a fun-filled day in the French Quarter planned for the delegates. We were able to show them many highlights of the Quarter during the day, but as night approached, the delegates' true desires surfaced: they wanted to shop at an American mall. We took them to Ross Dress for Less on Siegen Lane where they shopped for three hours, buying primarily clothing for loved ones back home.
Each of the five days of professional programming featured a unique venue focusing on the efforts of the legal and social services community in domestic violence law and prevention. Space does not allow the listing of all of the wonderful and informative professional presentations made, but a complete list of the agenda can be found with the on-line version of this article.
Day One started at the Louisiana Legislature. Prof. Ghetti began the day recounting her own personal and tragic domestic violence experience. She then expounded on the history and progress of DV legislation in Louisiana. She had set up meetings with State Senators Regina Barrow and Rick Ward and Rep. Beryl Amedée who discussed the legislative process and specifically DV laws.
Commissioner of Administration, Jay Dardenne, joined Prof. Ghetti and the delegates for lunch and a round table discussion. The delegates learned from Commissioner Dardenne, among other tidbits, that our own, beloved Pete Maravich was the grandson of Serbian immigrants. The delegates then went on a tour of the State Police Crime Laboratory. The day ended with a reception at the Goodwood Library Terrace where BRBA President Karli Johnson gave welcoming remarks to the delegates. The reception was attended by various judges, other dignitaries and several of the professionals who were to make presentations later in the week.
Day Two was spent at the LSU Law Center where the delegates sat in on three classes and had round table discussions with professors and interns involved with immigration and domestic violence cases. The delegates seemed surprised to learn that the Law Center used the Socratic Method of teaching to a great extent. The delegates gave a 90-minute presentation on Serbian domestic violence law which was attended by many BRFF members, law students and faculty.
Day Three began at EBR Family Court where the delegates observed the intake of domestic violence complaints, sat through hearings on restraining orders and spoke with Judge Pamela Baker regarding problems that arise in domestic violence cases. The delegates then went to City Hall and received individual commendation certificates from Baton Rouge Mayor-President Sharon Weston-Broome and participated in a round table discussion with her. She is a former state legislator who was instrumental in authoring some of the most significant domestic violence legislation in the state.
The delegates ordered take-out meals from Tony's Seafood seeing dozens of items not found in Serbia, a land locked nation. They then went to the IRIS center and shelter for victims of domestic violence where they ate and visited with the IRIS Domestic Violence Center Executive Director, John J. Price, and Operations Manager, Jane Schoen.
The afternoon and evening were set aside for free time. The female delegates spent the afternoon and evening shopping at the Mall of Louisiana. Mladen Vujin chose to return to the farm of his host family in Jackson, La. where he was able to relax. And Stefan Milijanović was able to demonstrate that Serbia has capable tennis players other than Novak Djokovic, as he beat me in three straight sets of singles.
Day Four was spent at the U.S. District Court for the Middle District of Louisiana where they were greeted by Chief Judge Brian Jackson and observed a sentencing hearing and an evidentiary hearing over which he presided. During lunch, Judges Jackson, DeGravelles, Wilder-Doomes and Bourgeois joined the delegates for a round table discussion of many issues, but especially those involving evidentiary problems. Apparently there are no jury trials in Serbia, so that was another area of interest. Later that day, groups involved with providing services to victims of domestic violence made presentations to the delegates.
The evening ended with a traditional BRFF jambalaya dinner including entertainment by a local group of Cajun dancers. Approximately sixty members of BR Friendship Force were in attendance. One of the more amazing occurrences of the delegates' visit came when Stefan took the microphone to sing along (in Serbian) to the New Orleans classic song, (Sitting Here) Ya Ya (Waiting for My La La).
Day Five was spent at the 19th JDC where the delegates participated in discussions with District Attorney Hillar Moore, Chief Judge William Morvant and Judges Bonnie Jackson and Anthony Marabella regarding domestic violence issues. They then met again with the District Attorney and Melanie Fields for further discussions and an EBRDA Victim Assistance presentation. Finally, the delegates met with Detective Patti Freeman of the EBR Sheriff Office who is the chief deputy for domestic violence cases.
The concluding event for the delegates and facilitators was their complimentary participation in the Baton Rouge Bar Association's Annual Belly-up with the Bar cook-off, brewfest and outdoor party, showcasing the delicious variety and skill of cooks and bartenders affiliated with the BRBA.
Hopefully, the delegates returned to Serbia with insight as to methods used by Louisiana law enforcement professionals, legislators and social workers to help control and stem the tide of domestic violence. We know they returned full of good South Louisiana food and fellowship.



Bogota, Colombia
​September 9-16, 2016 (Journey 13291)
---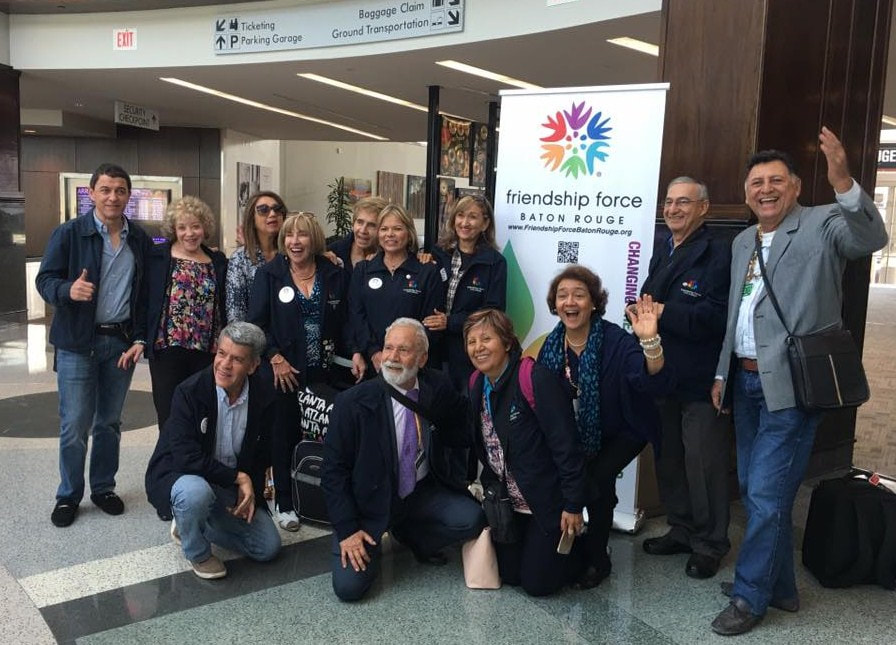 Morena Cazedessus was the Journey Coordinator with help from Lynn Robbins and Karen Pharis. The Colombian Journey Coordinator, Cuqui Ardilla did the advertising and chose the Ambassadors. Cuqui was hoping for 20 Ambassadors from Bogota Club but for various reasons only 13 Colombian Ambassadors were able to make the journey.
The Colombian ambassadors included Cuqui Ardila, Cesar Ardilla, Consuelo Ramirez, Doris Osorio, Gladys Burgos, Javier Ramirez, Jaime and Carmen Leticia Ardilla, Carlos and Fabiola Alfonso, Maria Helena Burbano, Humberto Rojas, and Myrtha Munoz.
The group toured Magnolia Mound Plantation in Baton Rouge where they enjoyed a picnic lunch. They visited Houmas House plantation and gardens in Gonzales and had a lunch buffet that included several of Louisiana's Cajun specialties. Ambassadors enjoyed the opportunity to spend some time shopping at Tanger Mall. On a trip to Lafayette they stopped at Vermillionville where they learned how the early Acadians lived in south Louisiana. While visiting the Tabasco plant at Avery Island the group was interviewed by a local paper and the article was on the first page of The Daily Advertiser in Lafayette. A long day in New Orleans included a walk through Jackson Square, beignets in the French Market, hurricanes (a special cocktail) at Pat O'Brien's, a street car ride down the Mississippi River. In downtown Baton Rouge they visited the Old State Capital, the Capital Park Museum, and the Live After Five concert. The ambassadors were made honorary citizens of the city by the Baton Rouge Mayor. They sang their national anthem in front of the municipal building as the Colombian flag was raised.
The group was treated to a jambalaya welcome party at the new EBR Parish library with lots of Cajun dancing. Small dinner parties included local favorites like shrimp and grits, turtle soup, gumbo, and crawfish etouffee. Small groups of ambassadors treated their hosts to dinner at several different local restaurants. The farewell lunch at Woman's Club house was a treat to all members of Friendship Force Baton Rouge as the Colombian ambassadors performed several dance numbers in colorful costumes.
The Baton Rouge and Colombian Friendship Force members mutually agreed the exchange was a phenomenal success. It may have been the first time we had a Journey Coordinator who spoke in the Ambassadors' native tongue, which was very helpful.