2015 Club Activities
______________________________________________
Christmas Party
and Fourth Quarterly Meeting
December 3
Going Away Party for Eveline Alleman
at St. James Place
November 22, 2015
Monthly International Lunch
at Little Saigon
November 19, 2015
Discover Louisiana:
Day Trip to Washington
November 14, 2015
Monthly International Lunch
Thai Pepper on Florida Blvd.
August 20, 2015
Hot August Nights Luau at Bob and Gayle Duncan's
August 8, 2015
Our annual Hot August Night Luau certainly lived up to its name. Considering it was still 100 degrees at 7 P.M., the party was a great success with over 50 members in attendance. We made several new friends and a couple of new members! Thanks to the Duncan's for the delicious luau-appropriate food, beautiful decorations, and attention to details. Bob and Gayle are just hard-working and gracious hosts. The hula contest was so much fun and everyone wanted pictures of the fun. Our newly elected president, Shelia Melancon, won the gift basket for the best hula, but Karen Phares was a close second. Trudy Ivy almost passed out from the heat, but she recovered and was lucky to win the huge gift basket door prize. Overall A Night to Remember! !!

Officers elected for 2016 included President Shelia Melancon, Vice-President Karen Vingiello, Secretary Trudy Ivy, Treasurer Janet Vanado, and Parliamentarian Keith Corkern. New board members include Larry Moore and Nina Russell. Lin Ashton continues her second year on the board.

The highlight of the meeting portion was voting on our 2017 outgoing international exchange choices. While these are our preferences, it is still up to FFI to match the clubs. Finding out that the Netherlands East club will be requesting to host us certainly swayed the vote and is our #1 choice, with a second week in Belgium / France / England / N. Ireland / Wales. Having an opportunity to see the tulips in bloom is a huge drawing card. Following the N. Europe choices in order of preference was Japan, Hungary, and Brazil.

A big thank you and appreciation for another party done so well to the Duncan's. Also, thanks to all those who brought dishes to share and to those who brought guests.

Een prettige dag! (Have a nice day!)

---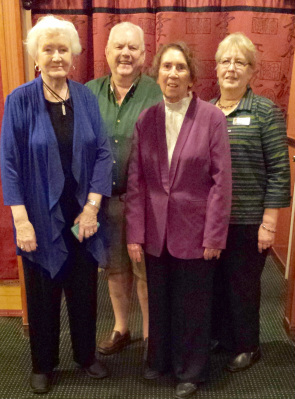 First Quarterly Meeting with Barbara Sims
at Hunan's Chinese Restaurant
Barbara Sims, the author of The Next Elvis: Searching for Stardom at Sun Records, was the guest speaker at the first quarterly meeting at Hunan's Chinese Restaurant. Barbara Barnes Sims worked in promotion and publicity during Sun's golden years, from 1957 to 1960. She published newsletters, liaised with distributors, and wrote liner notes for the first albums of Johnny Cash, Carl Perkins, Jerry Lee Lewis, and Charlie Rich. The Next Elvis: Searching for Stardom at Sun Records chronicles Sims's career at the studio, a pivotal time at this recording mecca, as she darted from disc jockeys to distributors. Sims entertained the group with personal stories of big personalities. Her stories included descriptions of a disgraced Jerry Lee Lewis to the remarkable impact and tragic fall of DJ Daddy-O Dewey to the frenzied Memphis homecoming of Elvis after his military service. She brought videos of some of the the rock 'n roll artists that came through Sun Records in Memphis, Tennessee.


---
---
Tour of NASA's Space Center in Stennis, Mississippi
May 27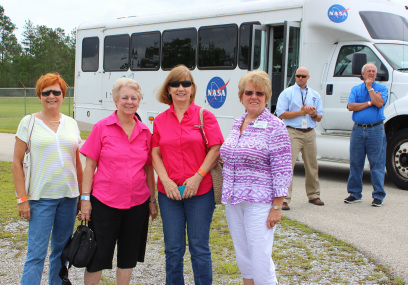 Club members, guests, and grandchildren met at Wal Mart on O'Neal Lane to drive to Stennis, Mississippi. We enjoyed a morning tour of NASA's Space Center where they test rockets and engines. The visitors center can be seen from interstate 10. The day started out beautiful as we got on a bus to tour the huge test facilities on the large piece of property that NASA owns. We returned to the museum and welcome center to see the great displays, have a little fun, shop at the gift shop, and eat lunch. Typical of Louisiana weather, we had to ride home in the rain.

---
_________________________________________________________________
Second Quarterly Meeting With Chef Coco
June 11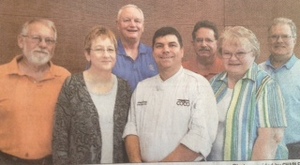 Chef Jeremy Coco, dean of the Louisiana Culinary Institute, prepared and served a gourmet meal at the main library. He then talked to the group focusing on the influences of Morocco, Germany, Spain, Italy, and France on Louisiana's cuisine.

Guests in attendance included Gary Hart, Trish Suchy, President Keith Corkern, Bob and Elizabeth Walker, and Larry Moore.
---
---
___________________________________________________________________
Christmas in July
Louisiana Veterans Home on July 18
On July 18 club members met at the Louisiana Veterans Home to celebrate Christmas in July. Francis Bennett did a great job of organizing this annual event. Veterans were treated with sandwiches, chips, cake, and drinks. The Cajun dancers entertained the veterans. Gift bags were given to each of the veterans when they left.
_________________________________________________________________________________________________
First Monthly International Lunch
Anthony's Italian Deli on Government on July 23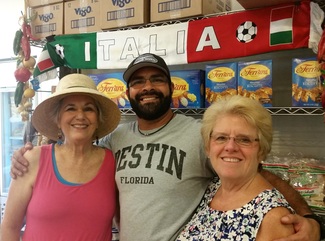 At the Southwest FF Conference President Keith Corkern learned that another club was having a monthly international lunch. So, he borrowed the idea and put Rose Wooden in charge of the organization of this fun event. Rose scheduled six lunches for the remainder of 2015. The first lunch was held at Anthony's Italian Deli on Government Street. Marco Saia and his mom were happy to serve Friendship Force. Marco Saia was thrilled to see Trudy Ivy, who taught him at Westdale Middle School just two blocks from the Italian Deli.





The remaining dates for international lunches on Thursdays include:
August 20: International Lunch at Thai Pepper, 5958 Florida Blvd. at 11 A.M.
September 24: Superior Grill, 5435 Government Street
October 22: Frankie Marcello's, 7520 Perkins Road
November 19: Little Saigon, 11224 Florida Blvd.
December 17: Bay Leaf, 5160 S. Sherwood Forest Blvd.

---
______________________________________________________________
Multi-Cultural Festival and World Friendship Day
Greenwell Springs Regional Library
Saturday, July 25
Friendship Force of Baton Rouge chose to celebrate World Friendship Day with the Greenwell Springs Regional Library's Multicultural Festival on July 25, 2015. The club provided and served refreshments including jambalaya, fried rice, gumbo, sandwiches, chips, cookies, and drinks. There were Cajun dancers, belly dancers, and Nigerian dancers, President Keith Corkern participated in a panel discussion about culture. Cultures that were represented included Central America, Nigeria, Islam, Native American, and Roma. Gail Duncan decorated two of the display cases in the lobby of the library in honor of the event.